IBM is due to release version 7.0 of its Enterprise Lifecycle Management (ELM) toolset in Spring 2020, rebranding and expanding on what was previously known as IBM Continuous Engineering (CE) version 6.0.6.1, released in Spring 2019.
What kind of benefits does IBM ELM offer for product manufacturers, and which version makes the most sense for industrial organizations today?
As the developers of the CE and ELM toolset—in addition to being daily power users of the tools ourselves—nobody is better qualified to answer these than Persistent.
We've addressed the most common questions below, based on our own hands-on experience developing and supporting CE and ELM, to help you determine if ELM is right for you and which version might offer the
the best path forward.
Who is ELM 7.0 for?
IBM ELM is for industrial organizations who are struggling to manage
Increasing complexity and software requirements in their product portfolio.
Growing compliance needs, whether those regulations apply to the industry, a specific OEM customer, or a variety of local, regional or federal government agencies and standards.
Expanding costs and cycle times to introduce new products.
Increase in product recalls and overall issues with product quality.
Broader numbers of product variants and the requirements needed to track them.
Collaboration needs of their distributed design, engineering, testing, production, and supplier teams.
What challenges does ELM 7.0 solve better than version 6.x?
The primary challenge ELM version 7.0 addresses is the need for scalability. Makers of complex products in a variety of industries are struggling to keep up with the growing product complexity that's driven by the increasing role software plays in product development.
For example, the chart below from McKinsey & Co. illustrates the challenge the automotive industry faces to effectively manage the exponential growth in onboard software over the last decade — a gap that's growing up to three times faster than the productivity growth needed to support it.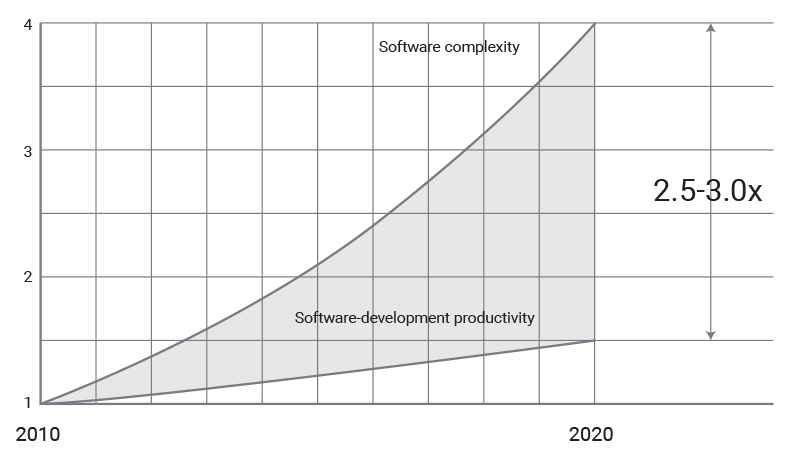 That need for scalability — in requirements, variants, compliance, and your ability to collaborate — is at the heart of ELM 7.0.
According to IBM, ELM 7.0 users are getting upwards of nine times (9X) the performance and scalability version 6.X offers, depending on the database that's being used offers, as per IBM.
If your organization is struggling to manage the exponential increases in requirements and requirements management due to growing complexity, ELM 7.0 was developed with this critical need in mind.
Otherwise, the current version 6.0.6.1 is the most robust, heavily used, and conservative option for industrial organizations looking to reap the benefits of ELM without the need to be leading edge.
What are the main benefits IBM ELM offers?
The list is long, but these are the top 10 benefits from our perspective
More effective requirements management — including improved single data transparency, traceability, and higher product quality.
Improved overall requirements quality — infused AI automatically reviews requirements, providing suggestions on how to improve them.
Increased ability to meet design plan and safety-critical requirements — including fully integrated regulatory, compliance, process, reporting, and audit capabilities.
Improved ability to address increasing engineering complexity — enabling systems of systems (SoS) design, geographically distributed teams, and developing multi-tiered value chains.
Improved ability to meet product quality standards — via continuous risk-based testing, including prioritization, assessment, and automation.
Enhanced decision making — including more robust visualization, prototyping, simulation, and analysis.
Better support for continuous process improvement — automatically creates system specifications, interface design documents, test cases, and track progress of work items.
Enhanced support for systems engineering best practices — including integrated agile, SAFe 5.0, and digital thread.
Better support for open standards — enhancing integration with OSLC-compliant applications, Github, Bitbucket, and others, enabling broader ecosystems and individual customization.
Better visibility across your operations, and beyond — improved reporting consistency across time zones, disciplines, and supply chains, delivering "one version of the truth" to your teams and OEM partners.
What process or business benefits have ELM 6.X and 7.0 customers experienced?
In the year since it was introduced, ELM version 6.X users in a variety of industries have experienced the following benefits
Improved ability to support exponential complexity increases and the requirements that result
More streamlined, quicker time to market through the use of digital twins and ability to simulate digitally rather than physically
Better able to meet compliance standards and regulations like ASPICE for automotive
Better connectedness with open standards, best practices, product lifecycle management platforms, and the disparate systems in the manufacturing environment
IBM's guiding principle for ELM 7.0 is "insightful engineering at enterprise scale" and that has proved accurate this far, with a team of 400 engineers
Saving $3.9 million by reducing the cost of defects by 60%
Reducing the cost of manual reviews by 25%
Improving retention of engineering expertise for junior engineers
Why wait? What are the benefits of adopting 7.0 right away?
Any producer of complex products currently struggling to manage their growing list of requirements and increasing scalability needs would experience a first-mover advantage by adopting ELM 7.0.
If I'm not running ELM version 6.0.6.1 currently, can I migrate straight to ELM 7.0?
We don't recommend it. If you're a current ELM user, the best approach, in our experience, is to upgrade to version 6.0.6.1 first. It's currently the most heavily used and conservative version available, so it will offer the smoothest migration path.
Once you're on 6.0.6.1, we can help you decide when a move to ELM 7.0 makes sense for you, based on your business needs. If ELM 7.0 is your ultimate goal, we can work with you to provide upgrade support to both ELM versions at a discount.
Which version of IBM ELM is right for my business?
It depends on a variety of factors related to your needs, challenges, and current environment that go beyond this blog post.
To help industrial organizations get a deeper understanding of ELM and which version is the right toolset for them, Persistent Systems is conducting a series of ten webinars titled "Supercharging ELM" related to specific aspects of ELM, integration with other modern manufacturing platforms and open standards, and industry and OEM compliance.
Click here to register for the upcoming webinar from the Supercharging ELM webinar series.
About the Author
Geoffrey Clemm
Distinguished Engineer at Persistent Systems
To fulfill his role as a distinguished engineer for Persistent Systems, Geoffrey Clemm relies on more than 30 years of industrial experience designing, implementing, and deploying software development tools. His primary responsibilities include IBM's Engineering Lifecycle Management (ELM) offerings and Software Configuration Management technologies.
Geoff is the primary author of RFC-3253, the standard versioning protocol of the Internet Engineering Task Force (IETF), and he is the specification lead for JSR-147, the Java Community Process (JCP) standard versioning API.
In addition to his development responsibilities, Geoff is the technical advocate for a set of large enterprise early adopter customers, where he guides their deployment and usage of the ELM solution.
Geoff holds a bachelor's degree in Applied Mathematics from Harvard College, as well as a Ph.D. in Computer Science from the University of Colorado at Boulder.