Report focused on Product Engineering Capabilities, recognizes company's strengths in User Experience Engineering, AI & ML Engineering, and Platform Engineering

Pune, India, and Santa Clara, USA
News
In its recently released report 'Zinnov Zones 2018 – ER&D services,' Zinnov positions Persistent Systems (BSE & NSE: PERSISTENT) in the leadership zone for 'Enterprise Software' and 'Consumer Software' verticals for the sixth consecutive year. The report recognizes the company's strengths in User Experience Engineering, Artificial Intelligence and Machine Learning Engineering, and in Platform Engineering.

"Zinnov Zones 2018 – ER&D Services" assessed 40+ service providers for their product engineering prowess. Service providers are assessed based on multiple dimensions such as spread and maturity of delivery and services capabilities, scalability, growth rate, financials, innovation & IP, ecosystem linkages and feedback from enterprise buyers.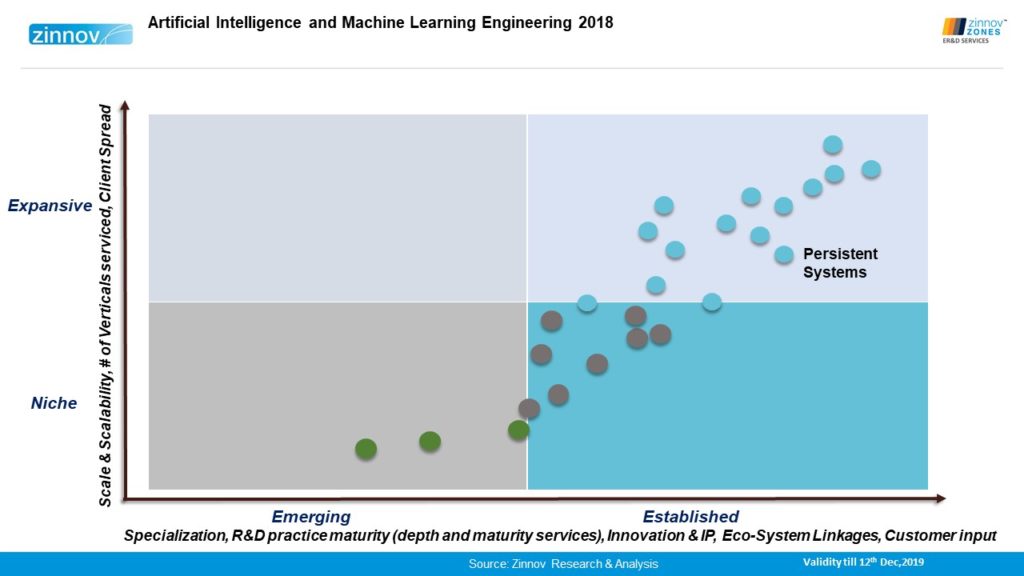 Sunder Sarangan, General Manager – Product Engineering Services & CMO, Persistent Systems
"Software 4.0 represents our thought leadership as a playbook for customers to build software products or software-driven businesses. It emphasizes new and emerging trends in the discovery, design and engineering of industry leading technology products. This strengthens our core capabilities in Product Engineering as we partner with customers to navigate technology shifts in the products and businesses."
Sidhant Rastogi, Partner & Practice Head, Zinnov
"Persistent has a strong market positioning and is among the leaders when it comes to engineering research and development services for enterprise and consumer software products. The firm's legacy in building software products coupled with the ability to drive digital transformation through their Software 4.0 and platform centric approach has helped make them a preferred partner for the software & internet enterprise community. Persistent has a strong focus on building APIs and off-the-shelf frameworks to reduce time to market for new product development."
Additional Resources & Information
Customer Testimonial: Persistent and IUCAA look up at the stars to solve problems on Earth
About Zinnov
Zinnov was founded in 2002, with presence in Bangalore, Gurgaon, Silicon Valley, and Houston. Since its inception, Zinnov has built in-depth expertise in Product Engineering and Digital Transformation. With a strong foundation in Research and Strategy Consulting they enable their clients to accelerate growth and create efficiencies through innovation, productivity, technology, networked economies and cost savings. They work with clients in the Software, Automotive, Telecom & Networking, Consumer Electronics, Storage, Healthcare, Financial Services & Retail, Semi-conductor verticals in US, Europe, Japan and India.
About Persistent Systems
Persistent Systems (BSE & NSE: PERSISTENT) builds software that drives the business of our customers; serving software product companies and enterprises with software at the core of their digital transformation.

Forward-looking and Cautionary Statements: For risks and uncertainties relating to forward-looking statements, please visit: FLCS
Media Contacts: