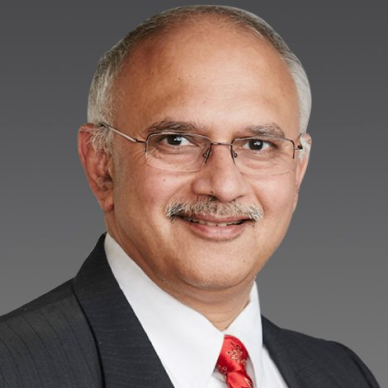 Dr. Anand Deshpande is the Founder, Chairman, and Managing Director of Persistent Systems since inception and is responsible for the overall leadership of the Company.
Anand holds a Bachelor of Technology (B. Tech.) with Honours (Hons.) in Computer Science and Engineering from the Indian Institute of Technology (IIT), Kharagpur, and an M.S. and a Ph.D. in Computer Science from Indiana University, Bloomington, Indiana, USA. He has been recognized by both his alma maters — as a Distinguished Alumnus in 2012 by IIT Kharagpur and by the School of Informatics of Indiana University with the Career Achievement Award in 2007.
Anand is a true technology visionary and has been the driving force in growing Persistent Systems from its inception in 1990 to the publicly traded global Company of today.
Prior to founding Persistent Systems, Anand began his professional career at Hewlett-Packard Laboratories in Palo Alto, California, where he worked as a Member of Technical Staff from May 1989 to October 1990.
He is a founding trustee of Persistent Foundation and has served numerous positions at various professional and non-profit organizations — NASSCOM's Executive Council, founding President of Association for Computing Machinery (ACM) India, Software Exporters' Association of Pune (SEAP), Pune Chapter of Computer Society of India (CSI), CII's Pune Zonal Council, Trustee in the Computer History Museum, founding member of Indian Software Products Industry Round Table (iSPIRT), founding member of I4C, a member of the Dean's Advisory Council in the School of Informatics, Computing and Engineering of Indiana University.
After transitioning from the role of CEO at Persistent, Anand is committed to making a broader impact and is focused on data, higher education, and entrepreneurship.
He is a part-time member of the Unique Identification Authority of India (UIDAI), trustee of the VLDB Foundation, and is actively working on projects to create a data platform for Indian patients suffering from cancer and diabetes. He is an honorary Adjunct Professor of Practice at the Desai Sethi School of Entrepreneurship at IIT Bombay, Chairman of the Board of Governors of IIT Patna and the interim Chairman of the Board of Governors at IIIT Allahabad. In addition, he is on the governing board of the College of Engineering, Pune and on the board of Gokhale Institute of Politics and Economics, Pune.
With his family members, Anand has established DeAsra Foundation. This non-profit entity focuses on creating self-employment at scale and through the Second Orbit program, in collaboration with Dr. Ashok Korwar, he has helped hundreds of entrepreneurs scale their businesses.
Anand is married to Sonali and they have a daughter and a son.