Persistent's Chief Technology Officer, Dr. Pandurang Kamat, recently served as the moderator and host of the NASSCOM CXO panel, alongside several esteemed guests. NASSCOM is the premier trade body and chamber of commerce of the tech industry in India and comprises over 2800 member companies including both Indian and multinational organizations. The guest panelists were: Prameela Kalive, Chief Operating Officer at Zensar Technologies, Rajat Raheja, Division President of Amdocs India, and Alexander Klotz, Vice President of Continental.
Here we bring you a wrap-up on the key takeaways from the NASSCOM CXO panel discussion. Click on the video that accompanies this post in order to view a replay of the session.
Key Takeaways:
Customer Experience is the Key
Technology is center stage in our businesses and strategies but what has really changed is the focus on customer experience. This has now been significantly accelerated as an effect of the pandemic.
Whether it is a product that we develop or a service that we deliver, or a solution that we build, customer experience must be the focus.
Technology has been a big enabler in transforming and enhancing the experience that you are able to give to your end clients. This is a big shift, and every business wants to pivot and differentiate itself through customer experience.
The Best Time to Ramp Up Innovation R&D is Now
Currently, we have a fair idea that the pandemic will recede in 2021 , although specifics are not yet certain. However, six months ago, nobody knew when we were getting out of it, so the priority one would have been for companies to control every discretionary spend, put it on hold or defer it.
In the next phase, organizations stopped spending, put Capex projects on hold and halted innovation initiatives, doing the bare minimum to conserve cash. However, as we went through it, companies realized that this could be the best period that we will see for several years to come, to really innovate and capture the new opportunities
There has been a heightened focus on innovating among organizations. Now innovation is beyond just technology and focus on R & D– you can unlock technology to solve real business problems.
There is no slowing down of innovation at all, in fact, now companies are pumping in more focus, effort and time to see how they can create new marketplaces and models in this new situation.
Shift in Technology Trends
We are definitely moving towards 'Digital First' and the connected society. Consumers are increasingly demanding end-to-end engagement on various digital platforms and seamless experiences across all channels – be it e-commerce, customer service desks or mobile apps.
The shift to AI –Chatbots are common now, Tesla drives us, Alexa switches on our television, lights, and responds to our commands
Edge computing now allows specific computation to be done closer to you
Personalized, multi-channel and multi-modal experiences are becoming a norm with voice, touch, mixed reality as the mediums of interaction.
Hyper-automation is now allowing us to add layers of advanced technology, including AI & ML to automation layers. We are increasingly automating the process and augmenting human experience, resulting in expansion and sophistication of automation – be it discovery, analysis or design
Importance of AI & How to Stop Technology from Crossing the Ethical Line
All businesses are striving to give an outstanding positive experience through their systems, products, services, websites, etc. and at the core of this is AI & data
AI is allowing us to connect the dots and give us actionable insights – to be active, reactive, predictive, proactive and more preventive rather than going and resolving something when the problem actually occurs
As we build systems that affect lives we must look at the ethics of technology. From protecting individual privacy, to preventing bias – either due to faulty algorithms or biased data, to ensuring the systems do not infringe on individual rights and freedoms. We must have ethics as a forethought when applying technology.
AI needs to be responsible, fair, transparent, and explainable.
Cultural Changes that Organizations Must Make to Accelerate the Digital Enterprise
A lot is spoken of Agile in software development, but agility of the entire enterprise is key to acceleration. It is a continuous journey, not something you can switch on overnight.
Empower your employees and train them to be customer-centric, and outcome driven.
We need to humanize the work environment, demonstrate a level of empathy and create a culture of high-trust and psychological safety, for a digitally-driven Agile environment. We must focus on creating human connections and intentional meaningful interactions amongst employees.
The future will belong to "whole-brained" teams – that will be a mix of right-brained as well as left-brained talent.
Hire students of liberal arts, humanities and social arts into the tech workforce, if you really want to bring together technology and human interface.
Functional roles and rigid job descriptions will be replaced by collaborating teams that will experiment and explore solutions in a hyper-connected virtual or hybrid workplace.
Talent will need to have high cognitive skills like thinking, visualization, idea generation, systematic decision making, problem solving, and so on. Also, social, economic and emotional skills – like leadership, social influence, emotional intelligence, self-development, empathy along with technical skills.
Dr. Pandurang Kamat is Chief Technology Officer at Persistent Systems. He helps enterprises unlock business value through technology and innovation. Prior to Persistent, he was the director of analytics at IAC Search and Media and has previously worked at Bell Labs and HP Labs, building secure communications and digital media products. He holds a PhD in Computer Science from Rutgers University, New Jersey.
Author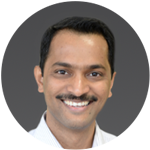 Pandurang Kamat

Chief Technology Officer