2020 marks the 30th anniversary of Persistent's founding.
We are proud of the company we have built and our valued employees, partners, and clients who have made our success possible.
Our journey has taken us from building market leading software products for ISV partners to becoming a global leader of digital transformation.
2020 also brought a global event few anticipated. We are grateful for the fast flexibility of our team to work remotely while providing continuity to our partners and clients.
Organizations now realize the urgent imperative in moving to become digital-first and we are well positioned to help clients make that transition. With our digital mosaic approach we are building the ideal and unique combination of powerful cloud-based platforms, applications and tools for our clients, working with many of the leading cloud companies as partners.
We are excited to continue this journey.
Ensuring the safety and well-being of our employees and their families was our highest priority and I am glad to report that all are safe and doing well. We enabled work from home as soon
Founder, Chairman and Managing Director
Read more
Persistent at a glance after 30 years
30+ years of leadership in software engineering and digital transformation.
Highest customer experience scores of any company in IT industry, rated by ISG.
Boutique mindset focused on enterprise clients moving their digital presence to cloud.
Diverse, open and innovative business partner ecosystem for maximum adaptability.
$523M
Rolling 4 Quarters Revenue
12,000+
Industry & Tech Experts
1,000
Active Clients Annually
Our 30-Year Journey
From our humble beginnings in India in 1990 to today's presence in 17 countries, and a diverse group of over 10,600 employees, we have always made it our mission to stay closely connected to our clients and employees. Technology shifts have disrupted every industry — from new business models to new ways of engaging clients to highly simplified and automated ways of getting work done.
Over the last 30 years, we have invested in building solutions, establishing partnerships, and getting our teams skilled to help our clients navigate these shifts and achieve business differentiation through elegant compositions of technology.
The Way Forward
We are a global solutions company delivering digital business acceleration and enterprise modernization.
We modernized our go-to-market model to address the needs of the digital enterprise and to play our role as a global solutions provider more effectively. This model builds on our strong legacy of data and product engineering leadership in the industry to create new sources of value for our clients and provide a clear framework of engagement with our broadening partner ecosystem.
We focus on six service lines across four key industries
Unleashing Client Value through Digital Mosaics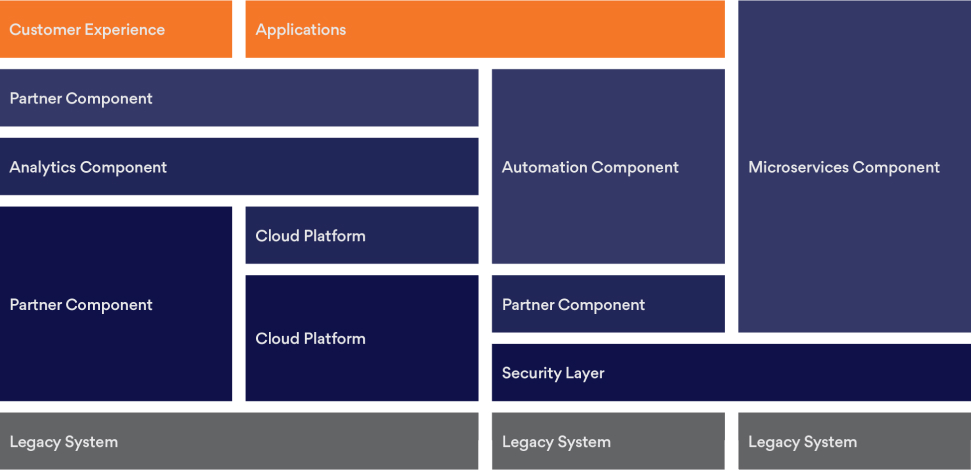 The digital mosaic is a multi-cloud, multi-service business architecture, with composable tiles that together deliver the working applications and processes needed in an enterprise.
All our clients across industries and markets are looking to accelerate their journey to a digital enterprise, a need accentuated by the impact of the COVID-19 pandemic.
Organizations realize that scaling their digital operations across the front and back office is essential to their bottom and top line, but now, in the current context, even their survival.
The Way Forward
Delivering Client Value
Expanding our Partner Ecosystem
We are grateful for our relationship with Persistent as one of our trusted partners for the past 12 years. As a Platinum partner, Persistent's global Salesforce practice works side by side with us as we support our customers' success. I wish the Persistent team all the best as they celebrate their 30th anniversary.

Leon Mangan SVP Alliances and Channels, EMEA & LATAM, Salesforce
Our powerful partner ecosystem is what enables us to offer market leading solutions in the service lines and industries we serve.
Our digital mosaic strategy expertly integrates the "tiles" of cloud-based solutions, tailored to meet client needs for accelerated time to value.
Tiles within these mosaics reflect the many partners that deliver distinct value propositions to our clients, while each solution we build leverages our expertise to combine multiple tiles, creating new revenue opportunities for these partners.
The Persistent partner ecosystem brings together companies of all domains, sizes and geographies to create a profitable, symbiotic environment for our clients. Persistent is poised to grow its partner ecosystem by way of breadth, depth of relationships and as a significant revenue generator for the company.