Persistent cited as Leader in ISG's Salesforce Ecosystem Partners 2021 Report for Salesforce Services in U.S.

Persistent in the Salesforce Ecosystem Study
Persistent has been placed as a Leader in ISG's Provider LensTM reports for Salesforce Ecosystem Partners 2021 for Implementation Services for Core Clouds Midmarket, Implementation Services for Marketing Cloud Midmarket, and Managed Application Services for Midmarket. Persistent was also cited as a Product Challenger in Implementation & Integration Services for Large Enterprises U.S.
ISG covers Persistent's offerings, strengths, and limitations in detail in the complete report. Learn more about Persistent's Global Salesforce Practice

Read below for a quick walkthrough of the report:
Leader in Implementation Services for Core Clouds – Midmarket in U.S.
This quadrant addresses providers that specialize in Salesforce Sales, Service, and Commerce Clouds. Providers take an Agile approach to implementation and focus on use cases where less integration is required, which is typical for midsize and small clients, as well as the redesign of processes while using Salesforce applications.
Persistent follows a strongly modular approach where all solutions are designed and developed so they can easily be connected. This deep development expertise relies on a data-oriented approach based on a well-defined foundation layer of API and data integration.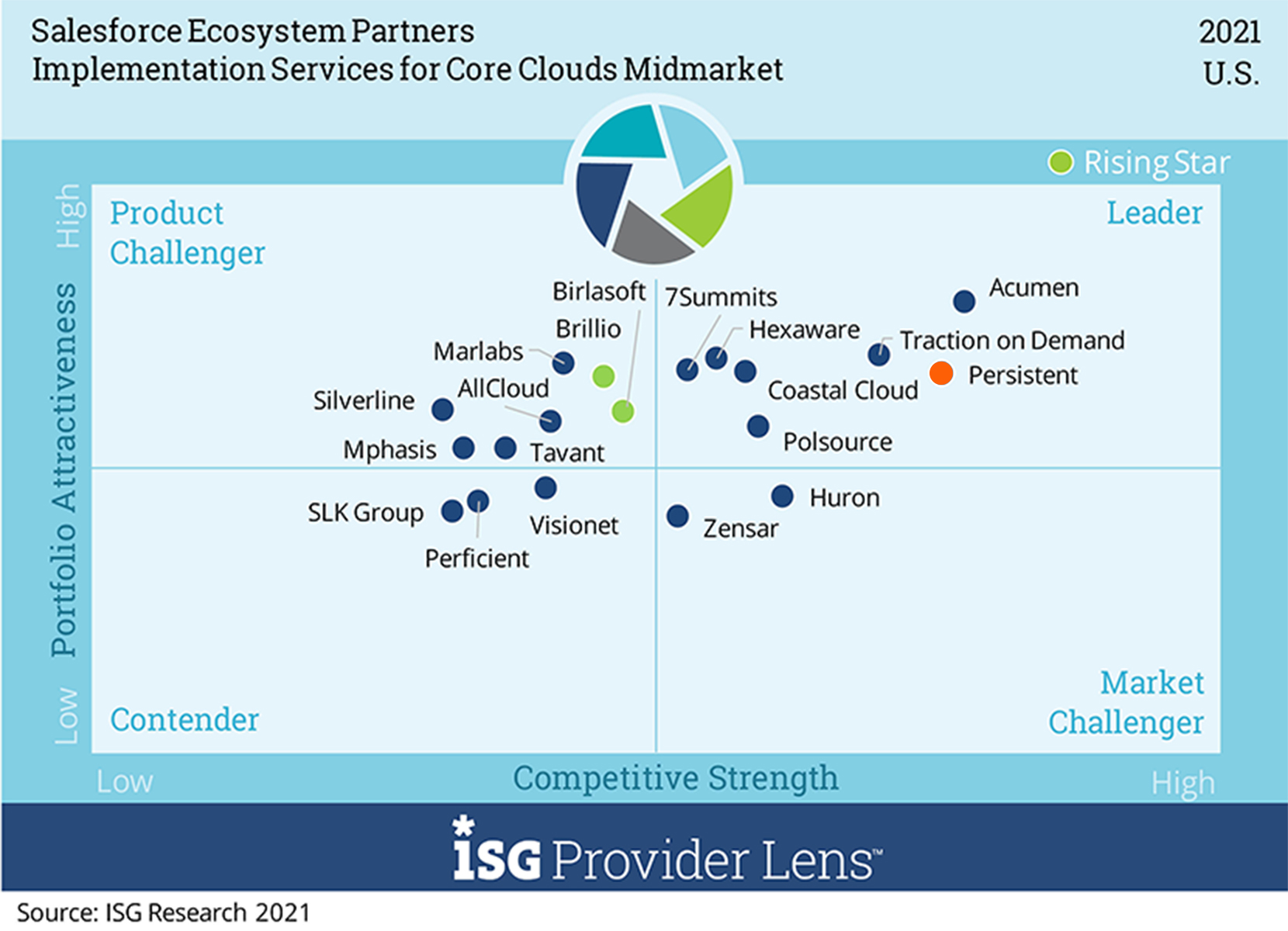 Leader in Implementation Services for Marketing Cloud – Midmarket in U.S.
This quadrant addresses providers that specialize in Salesforce Marketing Cloud for cases where the need for real-time integration into a complex system landscape is limited, which is more typical for midsize and small clients. In addition, providers included in this quadrant need expertise in general aspects, deep knowledge of marketing-specific aspects such as the use of media, and multi-channel approaches to information gathering, customer experience, and digital customer journey optimization.
Persistent's large Salesforce Marketing Cloud practice combines broad domain expertise with deep technology knowledge, with an additional focus on marketing-related customer analytics.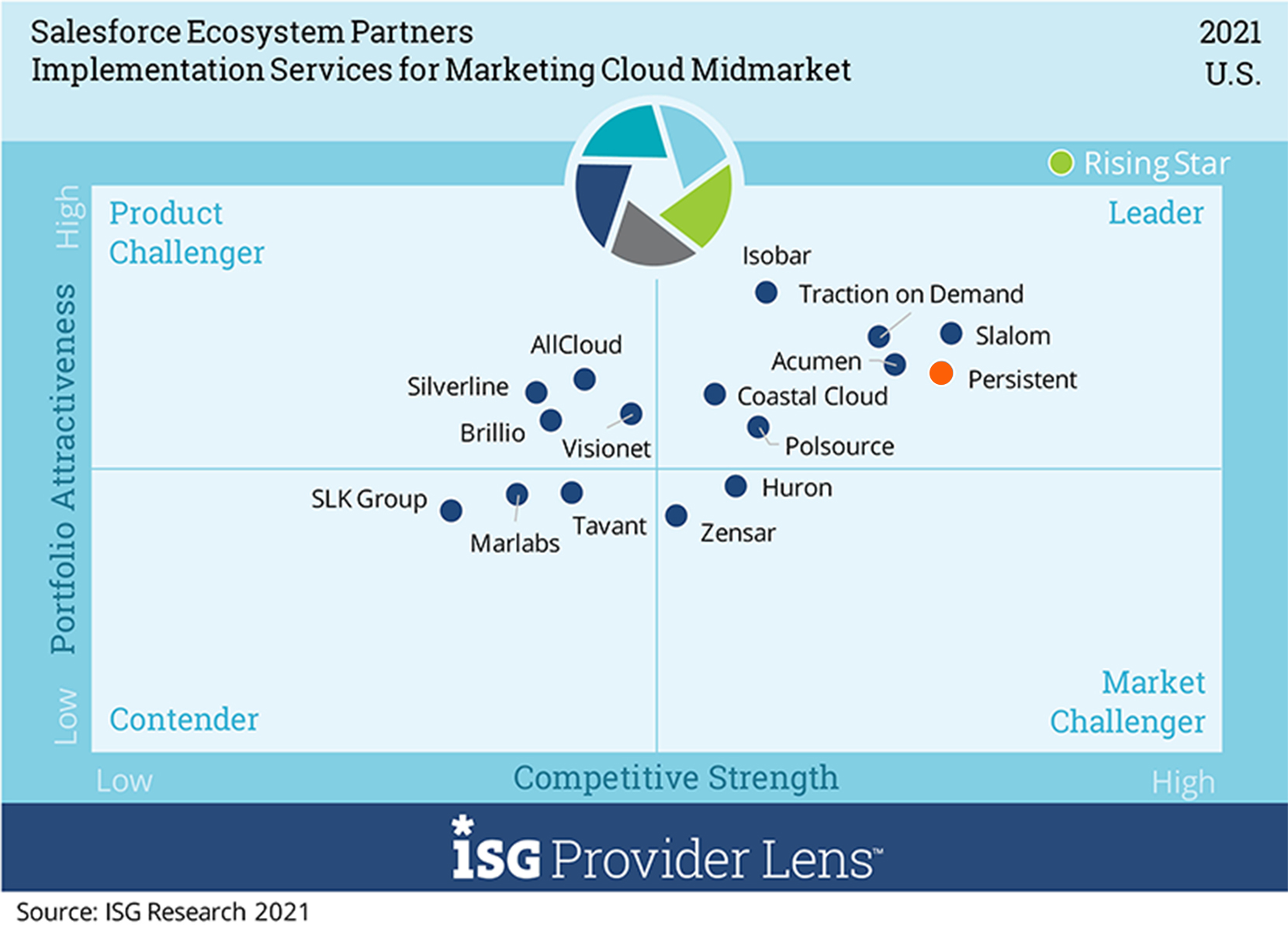 Leader in Managed Application Services – Midmarket in U.S.
This quadrant includes providers with the capability to offer managed services for maintenance and support functions that include monitoring, remote support, centralized management of Salesforce applications, data quality management, data security, and compliance related aspects.
Persistent offers an impressive portfolio of Managed Application Services around the Salesforce platform and can provide end-to-end services across the client's system landscape, including back-end systems.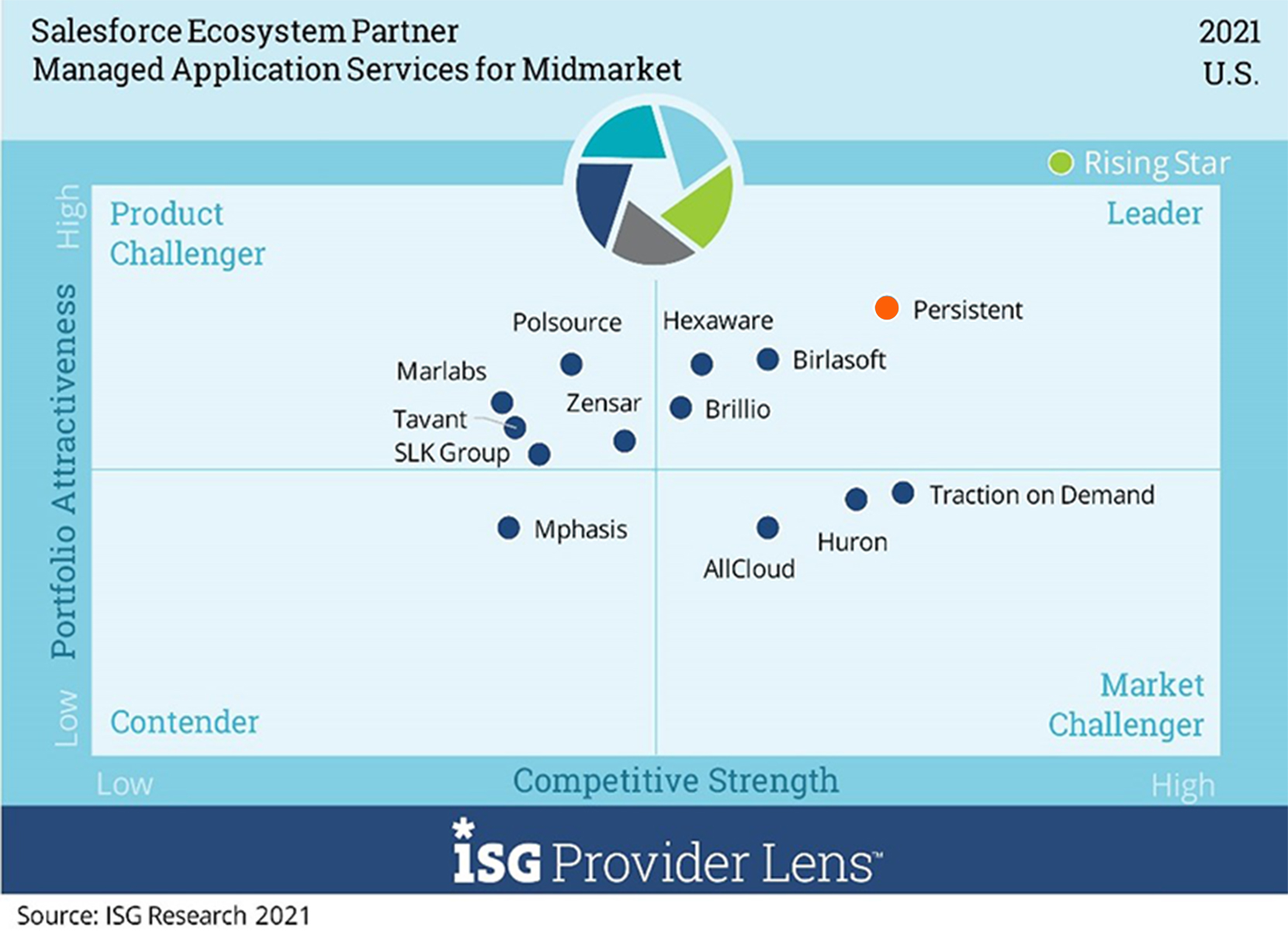 Background on ISG Provider Lens™ report

ISG Provider Lens™ provides an objective, data-driven assessment of technology and service provider's strengths and weaknesses, as well as their relative positioning in a given market. These reports provide influential insights accessed by ISG's large pool of advisors who are actively advising outsourcing deals as well as large numbers of ISG enterprise clients who are potential outsourcers.
For the Salesforce Ecosystem Partners Provider Lens™, ISG evaluated 25+ service providers on strategy and vision, innovation, brand awareness, and market presence, sales and partner landscape, breadth and depth of portfolio services offered, and technology advancements. Leaders in the ISG Provider Lens™ provide a very strong service offering and have a highly competitive market position, in addition to strengths in innovation and stability.
Our partnership at a glance
18 years
Of successful partnership